New promotion - 5 apartments - 3 SOLD
Erstmals gefunden am 01.12.2022
Beschreibung
Built in the popular town of Jouxtens-Mézery, this new promotion of 5 apartments is located about 1km from the LEB and amenities.
This old farm, which is being renovated, gives a huge cachet to these accommodations, the charm of the old combining the modernity of today's materials.
Each lot benefits from a garden. This is a major asset for complete disconnection whether during convivial meals on the terrace, or for a quiet moment enjoying the good weather.
A cellar, and 1-2 parking spaces are offered for each accommodation.
Blow of heart guaranteed!
Parts Distribution:
Lot 4 - 4.5 rooms (triplex)
Ground:
kitchen, dining room, garden
1st floor :
living room, 1 bedroom, bathroom (shower, washbasin, WC), balcony
2nd Floor :
2 bedrooms and 2 bathrooms (each with bath, washbasin, WC)
weighted area 197m2 (indoor: 137.5m2 / balcony 6m2 / terrace / garden 551)
255/1,000 -ths of the PPE
West orientation
Price: 1,520,000.- plus 2 parking spaces at CHF 20,000.- each
The end of the works is scheduled for the summer of 2023.
A high voltage line passes close to the house. However, they are much less dangerous than you might think. Ask for the complete file and at the end of the document you will find more information.
From the house you can hear the highway from afar. However, the promotion provides natural anti-noise panels in order to enjoy the quiet garden.
Come and see this promotion on site to view your lot!
Geographical location 1008 Jouxtens-Mézery:
Jouxtens-Mézery, made up of the localities of Jouxtens and Mézery, has been part of the district of Lausanne since 1798.
The town is bounded to the north by that of Romanel-sur-Lausanne, to the east and south by the town of Prilly and to the west by those of Renens, Crissier as well as by the Lausanne enclave of Bois-Genoud.
Very low taxation: 59% (Lausanne 78.5%)
Area: 200 hectares
Average altitude: 550 m
Population: 1460 inhabitants, 539 households as of December 31, 2021.
Public transport :
o LEB: about 1km, Romanel stop
TL-bus
o Line 84
o Line 18
distances:
3.8 km from the La Blécherette motorway exit
2-3 km from all amenities (Romanel, Crissier)
Schools:
Classes from 1 to 6P:
College of Jouxtens-Mézery
Ch. de Beau-Cèdre 2, 1008 Jouxtens-Mézery
Such. 021 635 00 11
Primary school
Place du College 3, 1008 Prilly
https://www.ep-prilly-romanel-jouxtens.ch
Such. 021 557 99 80
Secondary establishment of Prilly
Chemin de l'Union 1, 1008 Prilly
https://www.ecole-prilly-eps.ch
Such. 021 557 99 55
Private school Rudolf Steiner (3.6 km away)
http://www.ecolesteiner-lausanne.ch/
Early childhood :
From August 2018, the Maison de l'Enfance joined the AJENOL network and has since been part of the municipal services. It is open 47 weeks a year from 7:00 a.m. to 6:30 p.m.
Located in the center of the village, the Maison de l'Enfance brings together two Ships:
Le Petit Navire welcomes children from two years old up to school entry age (021/634.38.92)
Le Grand Navire supervises, outside school hours, children attending school in Jouxtens-Mézery from 1P to 6P (021/633.79.78)
Sources geographical location:
https://www.jouxtens-mezery.ch
/ www.wikipedia.org
Commercial and non-contractual data.
Visit:
Olivia Ayala
_079 409 65 18_
Mehr lesen
1008 Jouxtens-Mézery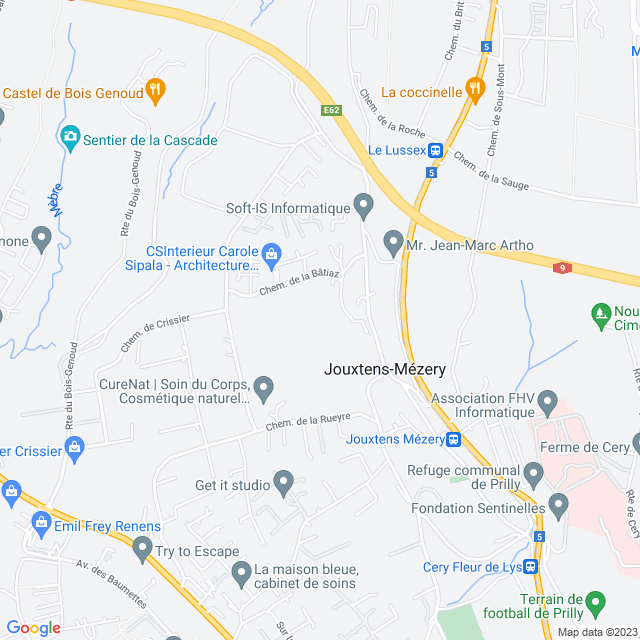 Angaben
Adresse
1008 Jouxtens-Mézery
Objektreferenz
62d66f03-ef0f-446e-ab20-0943d89a7cfd
Objektkategorie
eine Wohnung
Gefunden aufgrund
Baujahr
Anbieter Kontaktieren